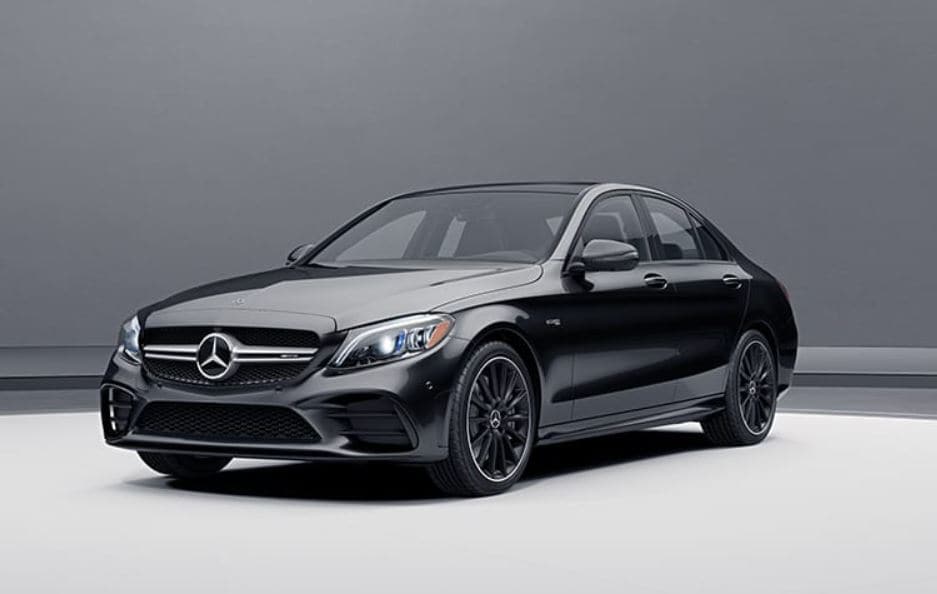 MERCEDES-AMG C 43
The Mercedes-AMG C 43 is the high-performance version of Mercedes-Benz compact-class luxury car. Based on the Mercedes-Benz C 300, Mercedes-AMG C 43 is available as a coupe, sedan and cabriolet. That means there a style for nearly every taste and need. And if your tastes run towards an SUV, there's always the Mercedes-AMG GLC 43!
The experts at Mercedes-Benz of Rochester can help you find the exact Mercedes-AMG C 43 for your wants and needs. Find out how we can help by reading on.
MERCEDES-AMG C 43 - A BRIEF OVERVIEW
The Mercedes-AMG C 43 features a performance upgrade over the standard Mercedes-Benz C 300 coupe, sedan and cabriolet. This factory-built hot-rod includes a strengthened and modified 3.0-liter twin-turbocharged V6 engine that is part of a powerful trinity that could be described as "some," "more," and "are you kidding me?!"
In this case, we are talking about the "some." Don't let the adjective bother you because the 3.0-liter Twin Turbo engine of the new Mercedes-AMG C 43 produces 385 horsepower and 384 lb-ft of torque. It is fed through an AMG-tweaked 9-speed automatic transmission into the AMG Performance 4MATIC all-wheel-drive system that routes up to 69 percent of the torque to the rear wheels. This power is good for a 0 to 60 mph romp in 4.5 seconds.
Mercedes-AMG performance suspension will definitely firm up your ride, but the comfort and sport settings can help dial it back if road conditions warrant it.
Also available are two versions of the 4.0-liter twin-turbocharged V8, which have been tuned to make 469 and 503 horsepower, respectively. They are sold under the Mercedes-AMG C 63 and Mercedes-AMG C 63 S badges.
A MERCEDES-AMG C 43 WALKAROUND
The Mercedes-AMG C 43 is immediately identified by the tri-star logo displayed in the grille center from the front. Wings radiate outward toward high-tech LED lighting for an authoritative visage as it wends its way through traffic.
Air curtain intakes route air over the front wheels in a more aerodynamic fashion to cut down on drag. Every little bit helps, but you already know that.
From the rear, the quickest way to tell your Mercedes-AMG C 43 Coupe, Sedan or Cabriolet is not the run-of-the-mill Mercedes-Benz C 300 is by the sight of quad exhaust finishers that are seen through the rear under-bumper diffuser. Not just a boy racer accessory, it helps to smooth the airflow from underneath the car.
The Mercedes-Benz C 43 is available in any C-Class body style. Each version, whether Coupe, Cabriolet or Sedan, features distinct AMG badges, wheels and design cues.
WHAT'S INSIDE THE NEW MERCEDES-AMG C 43?
Sporting elegance is the theme inside the Mercedes-Benz C 43. If you like the standard Mercedes-Benz C 300 model, you will love the new Mercedes-AMG C43. To our eyes, the Mercedes-Benz C 43 appears as a case of "honey, I shrunk the S-Class."
The interior of the new Mercedes-AMG C 43 is standard with a 10.25-inch digital central display that takes up most of the central dashboard. The Mercedes-Benz COMAND dial operates it on the center console or by the AMG steering wheel's redundant control buttons.
From a sound perspective, the only thing that's better than the 3.0-liter twin-turbocharged V6 exhaust note is the standard Burmester premium surround-sound audio system. There is a special array of AMG-specific gauges with specific performance menus in the driver's gauge binnacle. A 12.3-inch digital instrument display is an available option.
WHAT ABOUT SAFETY?
The Mercedes-AMG C 43 lacks for nothing when it comes to safety. Driving aids include adaptive cruise control with stop-and-go technology, lane-keep-assist, evasive steering assist, and Pre-Safe Plus, which prepares the car and the occupants for collisions. By placing seat belts in a locked mode, and quickly moving seatbacks in an upright and locked position, Mercedes-Benz engineers have designed a system that will help occupants to survive a shunt, should one occur.
BEHIND THE WHEEL OF THE MERCEDES-AMG C 43
Consider the Mercedes-AMG C 43 like a snake in the grass. It's able to lie low waiting for its prey to roost…and then, it strikes. That's essentially the feeling you get behind the wheel of the new Mercedes-AMG C 43. Starting with a fairly light vehicle, the Mercedes-Benz C 43 3.0-liter Biturbo engine acts like a mild-mannered Clark Kent before diving into the phone booth.
But once you stand on the loud pedal, the AMG C 43 roars to life, filled with power and loaded with torque. The 9-speed automatic transmission is a smooth-shifting cog box that is precise in its gear selection. Speaking of precision, the steering system of the new Mercedes-AMG C 43 is definitely that, offering exacting amounts of control when you need it most. But best of all, the entire Mercedes-AMG C 43 is a fun-handling vehicle that is totally ok with some tail-wagging if that's what you desire.
Filter by
Sorry, no items matching your request were found.
Reset Search
Make an Inquiry
* Indicates a required field